And we know that in all things God works for the good of those who love him,
who have been called according to his purpose. Romans 8:28 (NIV)
CAMP FEE: $375.00

$200.00 down
upon registration
~ Non-Refundable ~

Monday thru Friday
9:00 am to 5:00 pm

Limit 10 riders per camp
Ages: 9-18


UNDER TEXAS LAW (CHAPTER 87, CIVIL PRACTICE AND REMEDIES CODE), A FARM ANIMAL PROFESSIONAL IS NOT LIABLE FOR AN INJURY TO OR THE DEATH OF A PARTICIPANT IN FARM ANIMAL ACTIVITIES RESULTING FROM THE INHERENT RISKS OF FARM ANIMAL ACTIVITIES.
SHOCKEY STABLES Christian Horse Camp provides a safe environment for children to learn reliable horsemanship skills, build and/or improve self-discipline, self-confidence and self-esteem while experiencing the joy of horses.

Each day begins with Jessica Shockey role playing a Bible story our campers will truly understand and thoroughly enjoy. Her love for the Lord is a huge blessing and ministry to all.

Bring a sack lunch Monday thru Thursday, drinks/snacks provided daily. "HOT DAWGS" or "PIZZA" on Friday plus a "FUN DAY" filled with assorted activities & games both on & off the horses.
June 7-11
July 5-9 August 2-6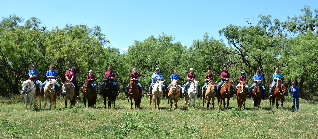 Camp Registration Begins
~ March 1st ~ Every Year
FULL
FULL
FULL