When the peace of Christ rules in our hearts, thankfulness overflows.
Even in the darkest of times, we can praise God for his love,
his sovereignty, and his promise to be near us when we call .
(Psalm 145:18).
Welcome to Our Horse World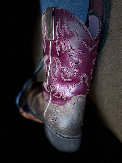 all rights reserved copyright © 2008 shockeystables.com
last update 04-21-23
Only God
could create
something with so much power, yet allow it to
remain so
gentle.
The innocence of a child harbors no fear
As her heart whispers softly
Only the horse will hear